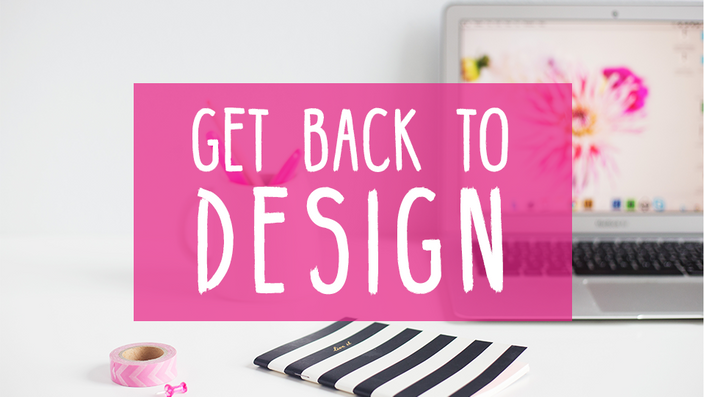 Get Back To Design
For Designers Who Are Ready To Ditch The Code And Do More Of What They Love
Get Back To Design is a free course for designers who are ready to ditch the code and spend more time doing what they love - design!
If you've been looking for a way to:
Offer more complex design features, rather than being limited by what you can code
Add web design to your offerings, instead of limiting yourself to services and platforms that don't require development
Give your clients websites with coding best practices kept in mind, or
Make more time for new design projects
you're in the right place.
I know that teaming up with a developer for the first time can be a bit scary. You're not sure how the process works. You've heard horror stories about other designers trying to work with a developer. You're not sure what would be expected of you.
That's exactly why I created this free course.
In Get Back To Design, we'll go over:
5 benefits of teaming up with a developer
6 things to keep in mind before your first collaboration with a developer
The 8 parts of the website design process and what that will look like, and
What to look for in a good developer
As an added bonus, we even have a course community. This Facebook group is the perfect place for you to:
Get your questions answered
Share any hesitations or struggles
Get advice if a collaboration isn't going quite right
Get recommendations for the perfect developer for you
Or even get a little help with your own coding!
If you're ready to stop wasting your time in code and spend more time doing what you love, click the button below to get started. I can't wait to help you get back to design!
Your Instructor
Hey, I'm Krista! I'm a WordPress developer who specializes in designer collaborations and creating strategic websites. My goal is to help designers do more of what they love and team up to help their clients elevate their business, increase conversions, and boost engagement through crafting strategic websites. I have 5 years of formal training in software and web development, I've teamed up with many designers to create gorgeous websites, and now I'm here to help you. I can't wait to help you do more of what you love!